TCAST SMS Gateway menyediakan Modem SMS Gateway GSM yang dapat Anda gunakan sebagai perangkat untuk mengirimkan SMS dengan integrasi Software SMS Gateway.
1. Wavecom M1306B Q2406B USB GSM (1 simcard) Rp. 500,000
2. Modempool 8 port Q2406B USB GSM (8 simcard) Rp. 3,950,000
3. Modempool 16 port Q2406B USB GSM (16 simcard) Rp. 6,400,000
---
Wavecom / Syscom M1306B Q2406B USB
Jika Anda ingin menggunakan Laptop Anda harus menggunakan modem Wavecom/Syscom M1306B Q2406B USB
Harga Lama 650.000
Kini hanya 500.000 saja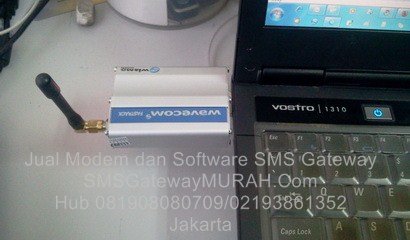 ———————————————————-
GSM Modem WAVECOM M1306B Q2406B
GENERAL INFORMATION
Dual Band GSM/ GPRS 900/ 1800 MHz Modem
GSM/ GPRS (Class 10) Data, SMS
Remote control by AT commands (GSM 07.07 and 07.05)
Open AT : develop applications directly on the modem
Max output power : 2W for GSM900 / 1W for GSM1800
Input voltage : 5.5V to 32V
Max current @ 5.5V :
300mA average 1Rx/ 1Tx (E-GSM 900) / 2.1A peak
500mA average 3Rx/ 2Tx (GPRS Class 10) / 2.1A peak
3V SIM interface
Dimensions : 73 x 54.5 x 25.5 mm
Weight : 80g
Temperature range :
Storage : -25oC – +70oC
Operating : -20oC – +55oC.
---
Modempool 8 port Q2406B USB
Harga Lama 4,6jt
Kini hanya 3,95jt saja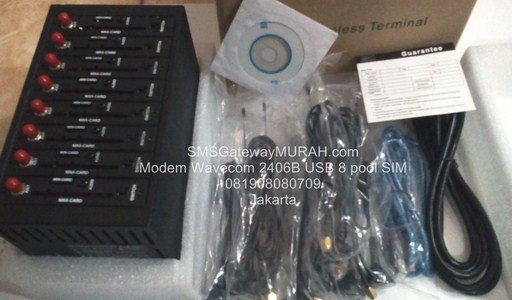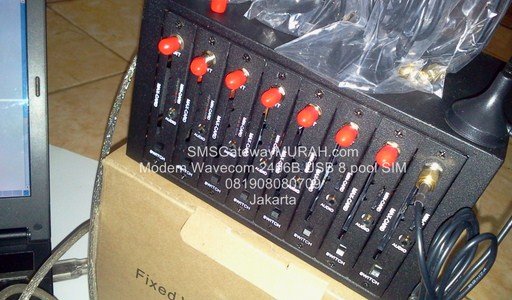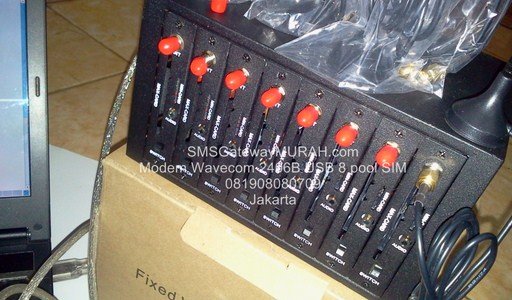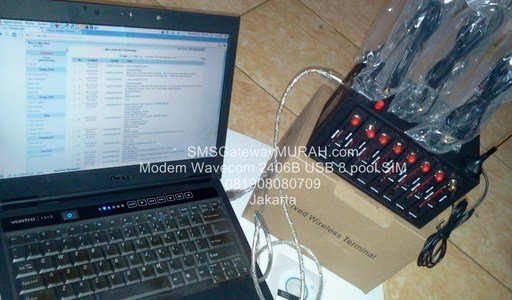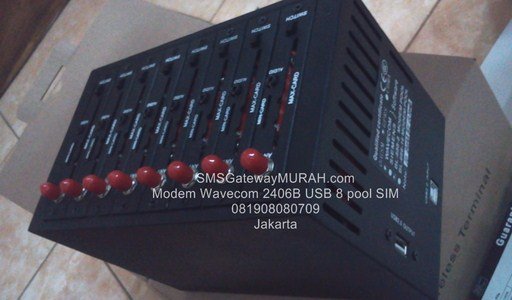 —————
Modempool 8 port Q2406B USB, cukup butuh satu slot USB dapat dipasang 8 SIM Card GSM. Include: 8 Antena, CD Driver, Kabel Power, Kabel USB, Kartu Garansi 1 tahun mesin (Untuk Card per slot garansi 3 bulan).
Spesifikasi:
GSM/GPRS: 900/1800 or 850/1900 or 850/900/1800/1900MHz
8 SIM card slots
Wireless access to internet
Comply with GSM Phase2 standard
Send and receive SMS, MMS, e-mail and data
Maximum transmitting speed 115KBps
Input voltage: 100V- 240V
Working temperature: -20 to +60
Storage temperature: -25 to +70
Double tone multi-frequency function(DTMF)
Send maximum 4800 SMS or 3200 MMS per hour
Size: 320*120*116mm
Accessories: 1 power cable, 1PCI data cables, 8 antennas, CD
---
Modempool 16 port Q2406B USB
Harga Lama 6.900.000
Kini HANYA 6.400.000 saja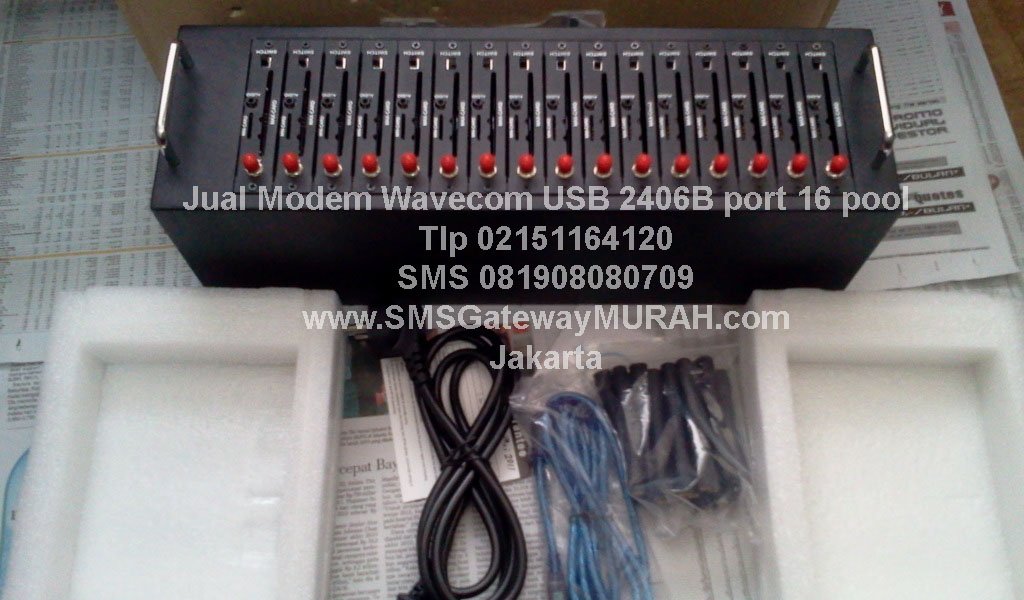 ?
————————-
Jual Modem untuk SMS Gateway Modem Wavecom USB Q2606B 16 pool SIM GSM. Satu modem dapat menampung 16 SIM Card GSM, dapat Anda gunakan untuk kirim SMS Massal atau SMS Broadcast ke banyak nomor Hp dengan Software SMS Gateway TCA$T Paket Corporate.
Paket TCAST Full dapat menjalankan SMS Massal dengan multi Modem hingga 255 Modem. Kecepatan untuk pengiriman SMS Massal per satu SIM Card adalah 750-1000 SMS Per Jam. Asumsinya sebagai berikut
Modem USB Wavecom 16 pool SIM Card dengan chipset ?Q2406B dan termantap mak nyusss :
1 slot sim card dapat kirim misal 900 SMS /jam.
16 slot sim card total jadi 16x 900 sms= 14.400 SMS perjam.
Spesifikasi :
Build in 16 GPRS modem in one box
Sigle power supply for 16 modems
Power button to control on and off
USB interface
Dual Band: 900/1800Mhz
Tri Band: 850/1800/1900MHz, or 900/1800/1900Mhz
Quad Band EGPRS 850/900/1800/1900 Mhz
Send MMS
GPRS class 10:max 85.6kbps(downlink)
Auto answer function for voice and data collection with the remote device.
AT command to control and program
Designed for WAP, MMS, SMS, CSD data, fax, and voice applications
Support XP/NT/2000/2003/vista operation systems
Design for high traffic communicaton